Propane Forge Knife Making Blacksmith Gas Forge Farriers Furnace HF2 U.S.A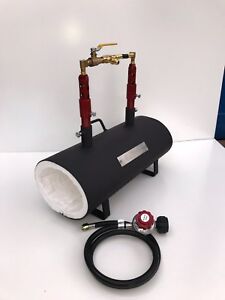 ---
PLEASE SEE PRODUCT RATINGS/REVIEWS AND TESTIMONIALS OF OUR AMERICAN MADE FORGES BY CLICKING ON PRODUCT RATINGS ON OUR OTHER LISTINGS AND FEEDBACK.                                    HELL'S FORGE™                                                           We would like to thank you for giving us the opportunity in gaining your business !!!  We sincerely strive to give you the best quality professionally built products available at the lowest possible price !       Why is the oval shape the best ?? THE DISTANCE FROM THE BURNER TUBE TO THE FIREBRICK IS IN THE FLAMES SWEET SPOT , THE INNER FLAME THE HOTTEST PART OF THE FLAME ! -YOUR FORGE Includes :
Roll Formed Forge Body ( 1/8" steel Oval design Larger working area , less wear and tear on the ceramic blanket )
2 extreme heat burners with adjustable chokes
3/8" flare adapter
Shut off valve to give you the option to operate on 1 or 2 burners 
1" High Density Ceramic Fiber Blanket ( rigid coated to extend fiber blanket life!!)
2000 degree ceramic exterior paint (not plain flat black paint that many others online are selling)
High Pressure Regulator with 48"hose (0-20 PSI)
(Quantity: 2) 4.5" X 9" X 1.25" Thick fire brick bottom (Full Size not cut!)
Operating and Setup instructions 
   ***Vertical mounted burner directs flame directly at your work !!!!***  -Dimensions:    19 inches length                          8-3/4" outside width                           6-3/4" exterior height of firebox                          8-1/8" from flat surface to top of firebox   Working Area Dimensions:  3.5" tall Inside                                              6-3/4" wide inside                                              19" long -Easily reaches 2000+ degrees !!!-Set up and go in a matter of minutes !!!                                 ENJOY!!BUY WITH CONFIDENCE !!! WE HAVE BEEN DOING METAL WORK FOR OVER 30 YEARS!! THE HELL'S-FORGE NOT ONLY WORKS GREAT IT LOOKS GREAT !! WHETHER YOU USE YOUR FORGE FOR A HOBBY OR MAKING SOME EXTRA CASH WE KNOW YOU'LL BE HAPPY !! THANKS AGAIN !!