8.7" Blade 180W Commercial Meat Slicer Electric Deli Slice Veggie Cutter Kitchen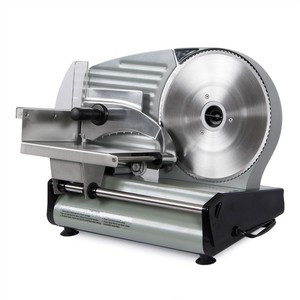 ---
Untitled Document Powered by Frooition
Free Shipping And Returns
Top-rated Feedback
60-Day Money Back
Automotive
Business & Industrial
Health & Beauty
Home & Garden
Pets & Animal Supplies
Sporting Goods
Tools & Equipment
Toys & Games
8.7" Blade 180W Meat Slicer Electric Deli Slice Veggies Cutter Kitchen Home 110V Item Description
8.7" Blade 180W Meat Slicer Electric Deli Slice Veggies Cutter Kitchen Home 110V
8.7" Blade 180W Meat Slicer Electric Deli Slice Veggies Cutter Kitchen Home 110V
Our deli meat slicer is perfect for slicing deli meats or vegetables swift and efficiently. This slicer pays for itself by allowing you to buy delis meats in bulk, slicing it when needed and then freezing the rest which reduces waste and maximizes value. The 8.7" inch blade easily slices through meat up to a maximum thickness of . Sliding meat carriage ensures perfect cuts every time and keeps the users hands away from the blade for utmost safety. Stainless steel blade design is easy to clean and is perfect for home kitchens and restaurants. Features:
Perfect Slicer- Perfect for preparing lunches, deli trays and buffet food for entertaining, party etc..
Food Type- Slicing beef, venison, mutton, turkey, cheese, ham, bread, vegetable, fruit and other food
Compact Design - This slicer is small and compact so that you can fit it into your small business more easily. Perfect size to place on a counter in your coffee shop or small restaurant, this slicer can also be moved for more thorough cleaning.
Saving Money- Slicer pays for itself by allowing you to buy delis meats in bulk, slicing it when needed and then freezing the rest which saves time and money
Stainless Steel Blade - The Stainless Steel blade is designed to resist corrosion and maintain a sharp edge for slicing
Meat Exit- Sliced meat exit behind the machine for sliced meat sliding out quickly
Adjust Thickness- Numerical scale knob makes the adjustable plate to move back and forth and adjust the thickness of meat up to the 3/8 inch thick (0-9.5mm)
Blade Size- 8.7" steel blade easily cuts through tough and frozen meats
Firm Grip- Spiked meat holder maintains a firm grip for controlled slicing
Suction Cup- Suction cup feet keep the unit stable
Meets or exceeds all CE, ETL and CSA standards
Specifications:
Color: Silver
Watt: 180
Voltage: 120v/60hz
Blade Diameter: 8.7"-inch
Blade Material: Steel
Max Slice Thickness: 3/8"-inch
Certification: ETL, CSA, CE Listed
Overall Dimensions: 17"(W) x 9-1/2"(L) x 11-1/2"(H)-inch
Package Includes:
1 x Electric Meat Slicer
1 x Instruction
Video
USA Seller Ships from our 400,000 sq ft in 2 facility in Los Angeles and Indianapolis.
Direct From Manufacturer Lowest Prices Guaranteed 90 Day Product Protection Warranty.
Same Day Shipping Order before 4am EST Mon-Fri and we will ship your item the same day.
Fast Delivery Item will usually be delivered within 1-3 business day.
About Us
About Us
Shipping
Returns
Contact Us
FAQ
About Us OPTIONTOOLS_Main Onebigoutlet is one of America top online suppliers of specialized Home Furniture, Home Appliances, Garden products, and High Quality Aftermarket Car Parts. For over 10 years, Onebigoutlet has been providing customers years of insurmountable service. Our highly trained, professional staff provides in-depth knowledge and exceptional personal assistance to customers worldwide. Our number one commitment is to provide unbeatable service at unbeatable prices. Founded in the heart of Los Angeles California, our 400,000 sq/ft warehouse houses thousands of the most comprehensive collection of household tools, home & garden and aftermarket automotive items to fit any of your needs. Onebigoutlet works closely with product manufactures, eliminating middlemen so we can pass the savings onto you. We look forward to building upon our tradition of excellence by continuing to provide exceptional products and services.
Shipping
FedEx Shipping From California - Los Angeles From Indiana - Indianapolis
All orders are shipped directly from our warehouse in California or Indiana (Please refer to sub-title)
Item will be shipped the same business day if order before 4 AM EST